Why I am advocating for Fashion Issues:
I am very passionate about fashion. The fashion industry is the industry I involve myself most in. Growing up, the world of fashion has always interested me and I have always been drawn towards it. I have never really noticed or looked into the big issues in the industry. I always just saw the positives in it. Recently though, I have began seeing multiple issues in the industries such as child labor, animal abuse, environmental degradation, and much more. These are huge issues that are very wrong and are things I will not stand for.
​
A couple resources I used:
https://ecowarriorprincess.net/2016/09/ethical-fashion-101-the-top-5-ethical-issues-in-the-fashion-industry/

http://www.refinery29.com/2015/12/99774/fashion-industry-problems-2016

http://smallbusiness.chron.com/top-ten-ethical-issues-fashion-business-21866.html

http://www.ethicalfashionforum.com/the-issues

​https://www.theguardian.com/sustainable-business/live-discussion-sustaianble-apparel-ethical-fashion
​
MCASD Zine Cover:
| | |
| --- | --- |
| --- | At our second visit to the Museum of Contemporary Art San Diego, we were able to do a activity in which we all made zine pages about our social issue. Luckily, most of the magazines were from many fashion editorials such as Vogue and Marie Claire. Due to our limited time, I was not able to even get near finishing my zine. Although it was no where near finished, I believe that I got in a good message in. At the bottom left corner, there is New York. New York is one of the fashion capital's of the world. In the middle, there is a big "FASHION" logo with the Joy Division band logo made up of words. Rather than it being Joy Division to me, the words in the background are barely visible symbolizing the voices that are not heard in these big issues in the industry. |
Powered by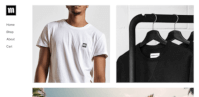 Create your own unique website with customizable templates.