Creating my Final Scary Story
​ Creating my final scary story was a pain. It took me a while. I had lot's of edits to make to it. Every time I thought I was finally finished with the edits, I had something else to fix on it. It did come out looking very good though which was fantastic. All the edits took some time to do. We had to always go back and fix every mistake. There were so many unnoticed mistakes in the story which made it kind of difficult. But in the end, the story came out just how I wanted, no mistakes either.
---
Powered by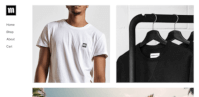 Create your own unique website with customizable templates.